PORTRAIT COMMISSIONS PETS AND PEOPLE…..
Hello again and welcome to my commissions page. Below are a few examples.
Pet portraits
I love painting animals especially dogs. I have also painted many pets who have died and I personally feel that an original painting of a deceased pet is a wonderful daily visual reminder of their unique character and helps to heal the pain of their loss. If your pet is very much alive, I find meeting them helps with producing an original artwork which truly captures their spirit and personality. This may not be possible if you live too far away but if you are able to provide me with good quality photos via email I am happy to discuss your pet at length with you to ensure I create a work that you will treasure. I am happy to travel anywhere if you can provide a private jet! (just jesting 🙂  !!)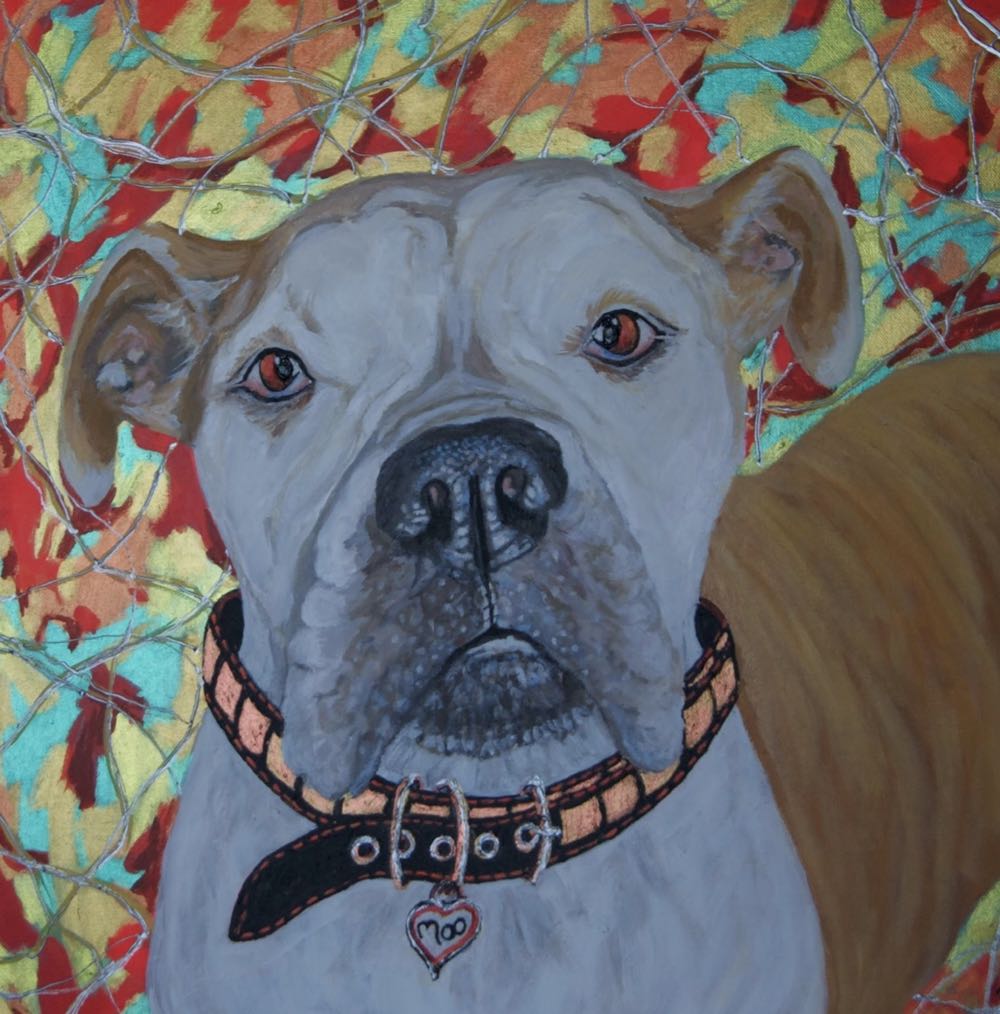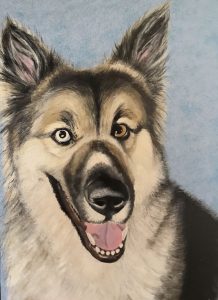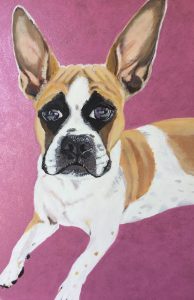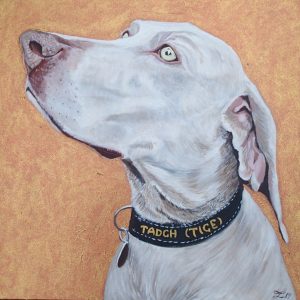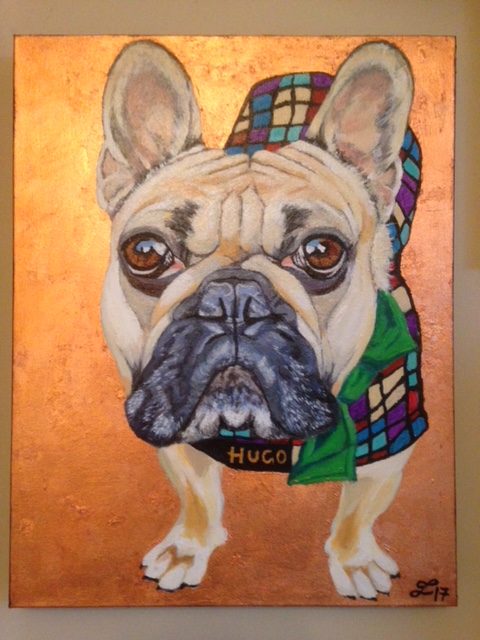 Portrait Commissions
I paint from reference photos and the first painting below is a good example of how I am able to create an individual artwork. It was commissioned for a birthday present and the chap in the photo is a photographer, so I was able to create an individual artwork for him from the original photo which I received in an email.
I am happy to use your own photos if they have enough detail in them or if you live within a couple of hours driving time from Bedfordshire, I am also happy to come and take my own photos using my digital SLR camera.

This is a portrait of a friend. The size is 30 x 30cm. It is acrylic and gold leaf on stretch box canvas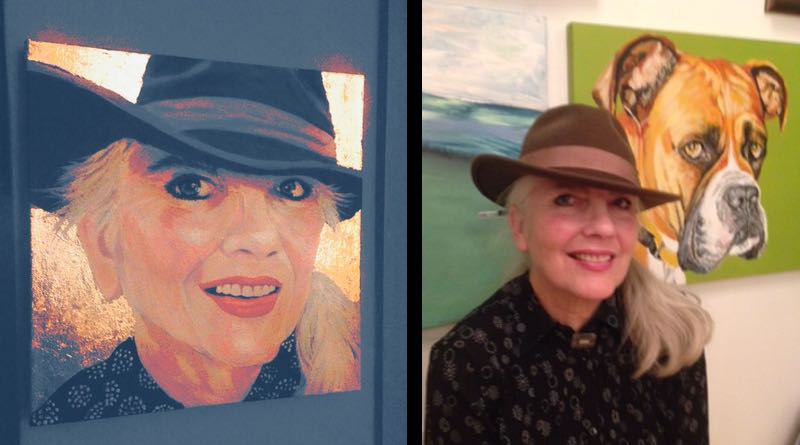 50 x 50cm Acrylic on stretch box canvas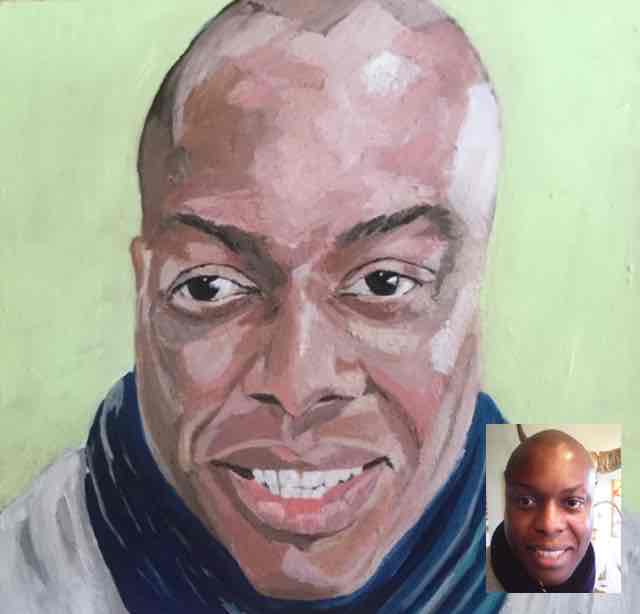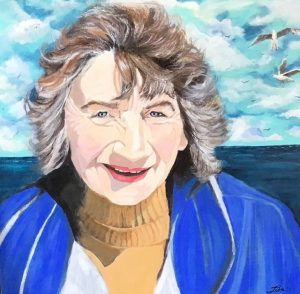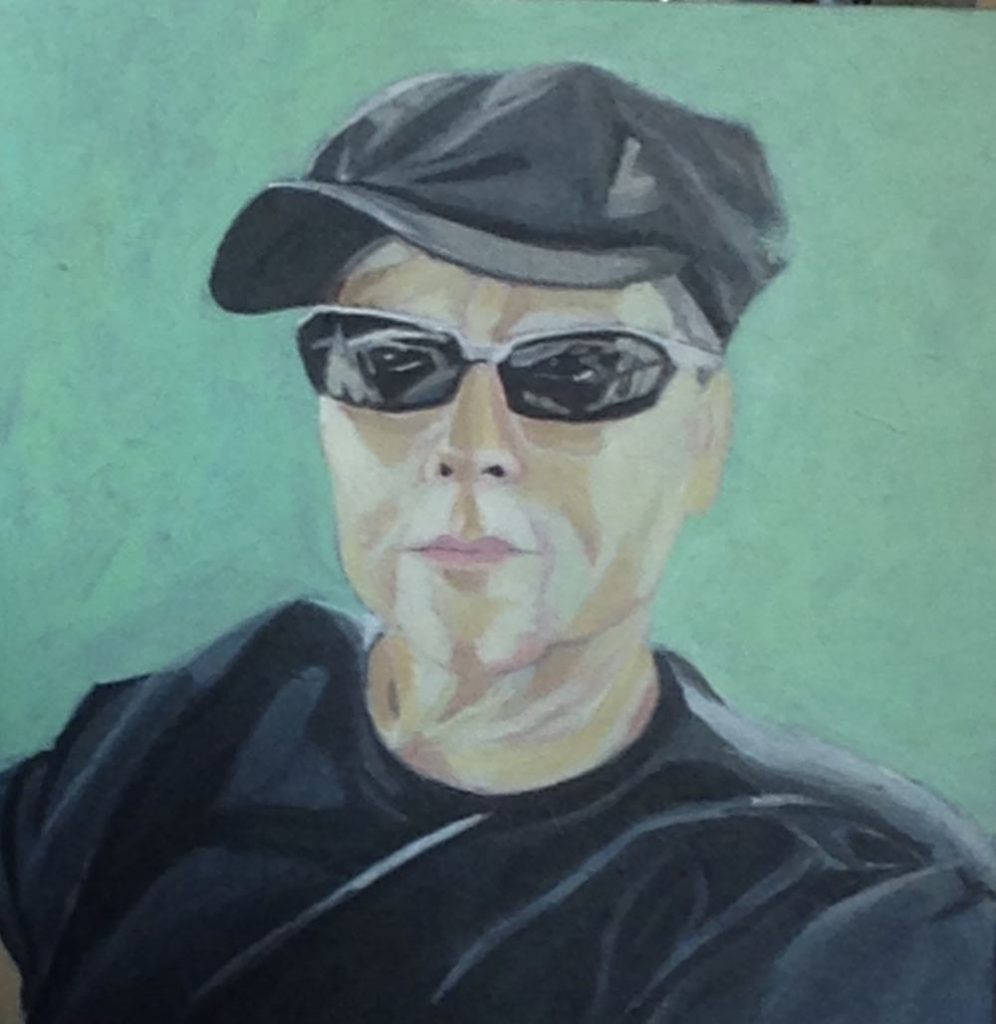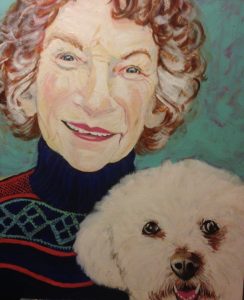 Pricing
As each painting is unique, the cost is something which we can discuss either in person or over the phone. Price will depend very much on the size of painting and the complexity of the subject. However, just so you know I cannot charge by the hour. My paintings take hours to create so I know whatever I charge, you are getting good value for money for unique and original artwork.
Time frames
This again is individual and will very much depend on my other commitments at the time you request a painting from me. Please don't expect a one week turn around time, as this is probably never going to happen. If you do have a deadline and if I feel I can't make it, I will be honest with you and probably decline your commission.
Quality
I prefer to work in acrylics and use pre-primed stretch box canvas.  My paintings are ready to hang, to frame the painting is a matter of personal choice and I'm afraid something for you to organise. I can recommend my local framery, The Framery – Kimbolton, as I know they provide a quality service, so again something else to talk about when you order your painting. The Framery also have some of my prints for sale in their browser so do go and have a look.
I will not sell you a painting I am not happy with, so far this hasn't happened but you never know!! I am a perfectionist and spend hours achieving a likeness.
I use bright colours in my work and please bear this in mind when ordering a painting from me. Take a good look at the paintings I have for sale. If you have a black dog I won't be painting him/her orange (unless you request me to of course!), but will probably add colour elsewhere in the painting.
If you are interested in any of the above please GET IN TOUCH and we can have a chat.