ZETA'S BLURB !
Hi and welcome to my "About Me" page. Firstly thank you for taking the time to look at my new fledgling website which I am very pleased with and hope you like it too.
I studied art only to foundation level in London where I am from, but chose not to do my fine art degree due to family circumstances. I consider myself therefore, as largely self taught and now nearly 30 years on, following a recent personal tragedy, I find myself painting as a kind of self imposed therapy having taken a sabbatical from my day job working as a registered paramedic. It is from my own very personal deep sadness that I hope to create a little beauty, speckled with a little colour, fun and humour and not just reflect on my very personal sense of loss.
Some people have told me that they find my field animal paintings rather sinister and I suppose I have to agree. My intention was to capture the slightly surreal quality of the landscape both in terms of its starkness, its colour and in the body language of the animals; in direct response to my past experiences of either feeling a part of a group or of feeling alienated by a group and in working through these experiences, I've captured a sense of social isolation which I've felt most of my life. I am happy to be the life and soul of the party, but have now found a sense of deep comfort choosing to live in the country surrounded by the animals I love, albeit still able to socialise and laugh at my own ridiculousness.
My latest works aim to draw a direct correlation between children's paintings and the childlike qualities of our animals and pets and in adding vivid colour and sometimes text to my paintings, I hope to create life and not just a static one dimensional likeness. Our animals are fun, more than that hilarious and in our vain attempts to care for them, the situations we find ourselves in are often ridiculous, but as an animal lover I wouldn't have it any other way. I hope that my animals make you smile and get a sense of their true innocence and spirit, I spend hours trying to create a true likeness and capture the essence of the animal I'm painting.
News

I am also working on a series of paintings of swimmers so this is very exciting for me , I love the water and immersing myself in it and doing these underwater paintings is something I've wanted to do for a while now so watch out for their unveiling!
Stay tuned to the site as I will be adding new blogs with updates on where you can see my work and also purchase it. I also am now the proud owner of a world pay machine so you can also buy directly from me.
Thank you for taking the time to read my blurb.Z🤓👍
You can see a selection of my work at……
7 Howard Street, Bedford, MK40 3HS
The Old Exchange, 1 Park Road, Stonely, Kimbolton, PE19 5EE
The Old Chapel House, Riseley Road, Keysoe, MK44 2HT
(September 6th – 9th 2018)
I have exhibited at …….
20 East Street, Kimbolton, Cambs, PE28 0HJ
Wood End Lane, Pertenhall, Bedfordshire, MK44 2AS
The Old Town Hall, Kings Road, Chelsea, London
21st – 22nd October 2017
Watch the Parallax Art Fair 2016 Video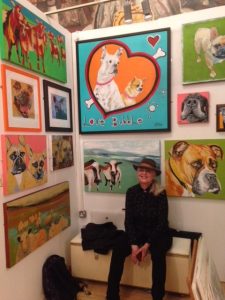 See Facebook images from this year's exhibition
I was also the featured artist in September 2017 at the 
7 Howard Street, Bedford, MK40 3HS